Tree inspired elements are coming up everywhere, as well as rough planks of reclaimed wood for use inside both residential and commercial spaces. Check out the following images and see if you can find the forest for the trees....
The Tote a restaurant and banquette hall designed by Serie architects of London.
Tree Branch Book shelf - by Olivier Dolle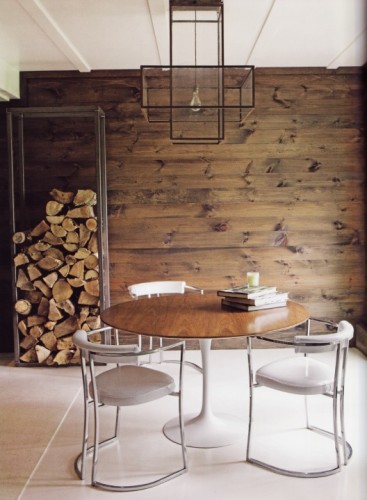 (Interior with wood wall image from
Oh My Gosh
blog)
(Wood accent wall image with Black accents image from Abigail Ahern)
In addition to all these woody inspired images, it seems that black walls are becoming quite popular in the interior design world lately, check out the following:
(Black accent wall image from Abigail Ahern)
(Black accent wall image from Oh My Gosh)
(Black living Room image by
Abigail Ahern
)
Lastly,this had nothing to do with the subject at hand, but I think everyone needs a
car covered with artificial grass...
(no need for water..right?? :))